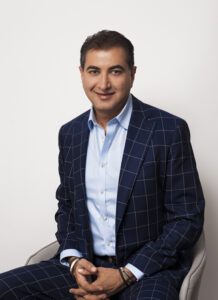 Art&Co was the world's largest online art auction for Covid-19 and its founder Bundeep Singh Rangar (pictured ) welcomed Silicon Valley investor Tim Draper to discuss how blockchain technology is important in an ever-changing world.
How do you see blockchain technology integrating in art purchases in future?
TD: The blockchain will make art trading more flexible and more secure. People are going to be able to tokenize their art, and that will make buyers of art more secure in their purchase decision and make artists happier about knowing where their art is and who owns it. There is also a cottage industry growing for people to own shares in masterpieces and have it stored or "rented" by people who want to put it on display but can't afford to buy it outright.
What is the future of art tech?
TD: I think art comes in many forms, one is a reflection of society, one is a warning for society, one is a prediction of the future, one is to move people, and one is just to make the world more beautiful. There are many others. So, art tech will take multiple forms. Instagram is an art form for some. Some are using computer art tools to create masterpieces of their own.
But most of the change in art tech will be in how art is bought and sold. I suspect that Sotheby's and Christie's have had their duopoly long enough, and now there is an opportunity for an upstart to break into the art world with a new approach around the blockchain.
Have you made any investments in blockchain that you think will change how people spend and invest?
TD: Yes, we have made a number of investments that utilize the blockchain.
Do you have any recommendations for people to understand blockchain?
TD: Just think of the blockchain as a perfect record, whether for keeping track of debits and credits of bitcoin, or keeping track of ownership of art, or keeping a permanent record of health care. It keeps track…permanently.
What's the difference between blockchain and crypto?
TD: Crypto usually refers to the currencies that are kept track of on the blockchain. Bitcoin, Ethereum and Tezos are examples.
As Art&Co is a philanthropic endeavour for Covid, how do you think technology may help in future to avoid or reduce the risk of future pandemics?
TD: Technology has saved us in this pandemic, whether getting toilet paper from Amazon or food from UberEATS. VR, Twitter, Facebook, and Zoom have kept us working and entertained. And while old methods were flailing on creating a cure, it was the company Verge Genomics, a Computational Biochemistry company that determined which FDA approved drug would be the best treatment for Covid-19.
What is the future for medical tech?
TD: It is all about data. Whether using personal data to do diagnostics or designing drugs on the computer (the dry lab), data will drive advances in health care for the next decade.
Why did you decide to get involved in Art&Co?
I have known the Bundeep Singh Rangar for many years and I liked the idea of helping out in a tough time through support for art.
Are you a collector of art, and if so, what are your favourite art pieces you own?
Yes, my wife and I love art. She is on the boards of two art colleges. We experience the grand masters by going to museums, but we buy art we like from global and emerging artists. We have art by sculptors Al Gabarra, Ruth Asawa and painters Michael Scoggins and Kelly Reemtsen. One of our favourites is two giant (11') feet by British sculptor David Breuer-Weil.